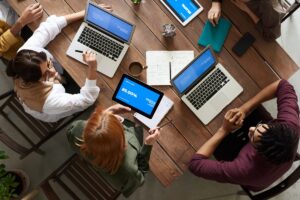 Drive growth with bespoke web and mobile applications
Caltalis brings innovation-led web and mobile application development to address complex integration.  Many enterprises face challenges developing seamless applications that merge with legacy systems. As a result, valuable resources are exhausted.  Caltalis enables enterprises the benefit of modern technology, processes, and agility to implement applications with the highest level of accuracy and precision.
End-to-end application development services
As a pioneering application development services provider, innovation is at the heart of all our digital products. Rely on us for enterprise grade app development and harness the immense potential of IOT, cloud and analytics. We help you drive seamless and quick user-experience with progressive web applications that empower your enterprise with cutting-edge features. Besides, whether it is native mobile app development, hybrid mobile app development or full-stack mobile app development with front-end and back-end development, we have you covered.
Interactive and Intuitive Web Apps
We are your one-stop destination for comprehensive application development needs. As a leading enterprise web application development agency, we help your enterprise formulate a perfect strategy and convert unique ideas into functional web apps which are not only easy to use and highly secure, but immensely interactive and intuitive to the core. Our portfolio of driven web application design and development experts focus on UI/UX, adaptability, flexibility and agility to come up with robust and path-breaking web applications that transform your digital journey. Maximize your ROI and accelerate business growth with sheer ease whilst achieving your business goals and improving productivity.
For more information related to our web application development offerings, feel free to get in touch with team Caltalis!